---
Urgent Appeal: Support Texas Firewalkers in Providing Essential Meals to First Responders
Texas Firewalkers Supporters,
As you may be aware, Texas is currently facing one of its worst wildfire seasons on record. The heroic efforts of our first responders have been nothing short of remarkable as they battle against these devastating wildfires. However, the resources required to sustain our disaster feeding needs at the rehab posts are running critically low.
In light of this dire situation, we are reaching out to you with a heartfelt request for donation funding to support the Texas Firewalkers in their mission to provide essential meals to the brave first responders who are putting their lives on the line to protect our communities. The continuous and intense nature of these wildfires has stretched our resources to their limits. Due to the sheer number of incidents and deployments, the availability of funding for disaster feeding efforts has become alarmingly insufficient. Texas Firewalkers, a dedicated group of 100 % volunteers, are determined to bridge this gap and ensure that our first responders have access to the sustenance they need to continue their vital work. Your generous contribution will directly impact the well-being and morale of the courageous men and women who are working tirelessly on the frontlines. By providing them with nourishing meals, we can help alleviate some of the stress and exhaustion they are experiencing while fighting these devastating wildfires.
Here's how you can help:
- Make a donation online at
https://texasfirewalkers.org/donate-now.html
- Spread the word by sharing this appeal with your friends, family, and colleagues on your social media profiles.
-Start an office fundraising pool and donate as a group.
- Text TFWCares to 44321 from any mobile device to donate in minutes!
Join Texas Firewalkers in appreciating the efforts of our first responders by contributing to this crucial cause. Every donation, no matter how small, will make a significant difference as every $1 makes a MEAL difference.
Together, we can ensure that our first responders receive the support they deserve during this challenging time. We believe that by coming together as a Texans, we can make a lasting impact and provide a beacon of hope in the midst of this wildfire crisis.
Thank you for your consideration and your commitment to our community's well-being. Your support means the world to us and to those who are tirelessly working to protect our great state.
With gratitude,
Blake "PeeWee" Henson
Texas Firewalkers
Founder/ Fire Survivor
P.S. Follow our progress and stay updated on how your contribution is making a difference by visiting our website at www.TexasFirewalkers.org.
Let's stand united in support of our brave first responders.
Who are Texas Firewalkers?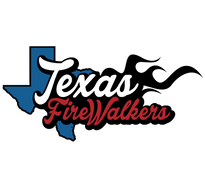 Texas Firewalkers EIN- 80-0735520
Texas Firewalkers are a non-profit, 501(c)(3) charitable-organization that aids families displaced by residential fire, supports First Responder incidents and provides hot meals to communities effected by natural disasters across Texas.
Texas Firewalkers
created a safety network to provide a disaster deployment response that is funded by your donations and our annual events.
Unfortunately as humans, we cannot prevent disasters from occurring.
My name is Blake "PeeWee" Henson and I created Texas Firewalkers in 2008 for Texas families affected by residential fires. Many years ago, I was personally affected by a residential fire of my own. Although I was grateful to be alive, having basic necessities such as shelter, food, and toiletries available to me would have made the days following my loss easier to bare.
As a non-profit organization and with your help, we can relieve some of the initial emotional trauma inflicted upon our community's' citizens all across Texas. Since 2009, our volunteers have spent countless hours planning and implementing events to raise funds so that we may continue touching those effected lives. We, as Texas Firewalkers, ask that you please take a moment and consider becoming a donor to our charity so we can continue to aid and educate those in need of our services. We are now assisting families displaced by fire, First Responder Agency Incidents Deployments and large scale disaster feeding events after natural/man-made disasters strike.
MISSION:
TO ORGANIZE AND DELIVER EXCELLENT SERVICE ALL AT TIMES TO THOSE IN NEED.
VISION:
TO GROW OUR SAFETY NETWORK TO REACH MORE VICTIMS AFFECTED BY FIRE AND ACTS OF MOTHER NATURE
VALUES:
Passion - Reliability - Courage
To request assistance
click here
.
To donate to Texas Firewalkers click here.
---