---

Have you had a chance to explore the "Bear" Essentials Project? By clicking on each page, you can gain a quick insight into how Texas Firewalkers impacts individuals during times of disaster.
Consider making a donation today. Texas Firewalkers operates entirely on a volunteer basis, with no paid staff or employees in our organization.
Explore The Bear Essential Project:
https://www.texasfirewalkers.org/bear1.html
https://www.texasfirewalkers.org/bear2.html
https://www.texasfirewalkers.org/bear3.html
https://www.texasfirewalkers.org/bear4.html
https://www.texasfirewalkers.org/bear5.html
https://www.texasfirewalkers.org/bear6.html
Thanks to our incredible partners, we have some special donor appreciation gifts!
Donation Tiers:
$5000 Donation: Enjoy a one-day rental of Firewalker Ranch on a Saturday or Sunday, featuring a catered BBQ plate from
#TFWBBQ
for 125 people, and a one-hour acoustic performance from a local Texas Music Artist. Thanks to the
Firewalker Ranch
$2500 Donation: Receive a one-day rental of Firewalker Ranch on a Saturday or Sunday, including a catered BBQ plate from
#TFWBBQ
for 75 people. Thanks to
Texas Firewalkers BBQ/Catering
$500 Donation: Get 100 custom-designed challenge coins with your logo on one side and the Texas Firewalkers logo on the other, showcasing your partnership with our non-profit charity. Thanks to
www.DutyCoin.com
$1000 Donation: Experience a four-hour bar crawl in the
www.AustinFireTruckRentals.com
Engine 51 with up to 4 people with some great bunker gear photo opts at each stop.
$100 Donation: Receive a Texas Firewalkers custom-made 20oz insulated cup with your name on it, a 2024 Texas Firewalkers member coin, and a TFW-branded hat!
Donate any amount, as "Every $1 makes a meal difference!" As we approach the Winter Fire season, where residential fires significantly increase, we need your support.
Thank you from the Texas Firewalkers family of volunteers!
Thank you to our annual partners:
Tito's Handmade Vodka
Lone Star Beer
SpawGlass
Alterman Electric
Alterman Foundation
JBG Plumbing San Antonio
Austin Overhead Door Company
Secure Gate Company
Affordable Golf Cars
Hydrant Rescue
and so many more!
PLEASE DONATE NOW AND THROUGH THE END OF THE YEAR.
---
Who are Texas Firewalkers?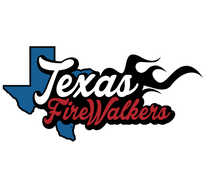 Texas Firewalkers EIN- 80-0735520
Texas Firewalkers are a non-profit, 501(c)(3) charitable-organization that aids families displaced by residential fire, supports First Responder incidents and provides hot meals to communities effected by natural disasters across Texas.
Texas Firewalkers
created a safety network to provide a disaster deployment response that is funded by your donations and our annual events.
Unfortunately as humans, we cannot prevent disasters from occurring.
My name is Blake "PeeWee" Henson and I created Texas Firewalkers in 2008 for Texas families affected by residential fires. Many years ago, I was personally affected by a residential fire of my own. Although I was grateful to be alive, having basic necessities such as shelter, food, and toiletries available to me would have made the days following my loss easier to bare.
As a non-profit organization and with your help, we can relieve some of the initial emotional trauma inflicted upon our community's' citizens all across Texas. Since 2009, our volunteers have spent countless hours planning and implementing events to raise funds so that we may continue touching those effected lives. We, as Texas Firewalkers, ask that you please take a moment and consider becoming a donor to our charity so we can continue to aid and educate those in need of our services. We are now assisting families displaced by fire, First Responder Agency Incidents Deployments and large scale disaster feeding events after natural/man-made disasters strike.
MISSION:
TO ORGANIZE AND DELIVER EXCELLENT SERVICE ALL AT TIMES TO THOSE IN NEED.
VISION:
TO GROW OUR SAFETY NETWORK TO REACH MORE VICTIMS AFFECTED BY FIRE AND ACTS OF MOTHER NATURE
VALUES:
Passion - Reliability - Courage
To request assistance
click here
.
To donate to Texas Firewalkers click here.
---